How do you write winning scholarship applications? We're so glad you asked!
Basically, words are of the essence – so you'll want to showcase your strengths and uniqueness concisely to leave a lasting impression with the evaluators. Quality over quantity. Always. How to write winning scholarship applications will depend heavily on the program requirements and specific asks – but there are some general best practices to keep in mind.
Consider this post to be your fool-proof application guideline. In fact, you can bookmark this page to store for future use, as the suggestions can even help you write strong cover letters for jobs, school essays, exams, and more.
Here are 5 go-to tips for writing winning scholarship applications:
Start with a killer opener.
You have about 8 seconds to catch a reader's attention. Always. So, it's good practice to start your application, or any piece of writing, with a bold or enticing message that encourages the reader to keep reading. Then, keep the momentum going with a dynamic sentence structure. For instance, try mixing a balance of short and long sentences next to each other. Like this. Many call this structure the kickbox-ing technique, and it helps prevent mundane writing. Gary Provost explains it well in this excerpt from Make Every Word Count.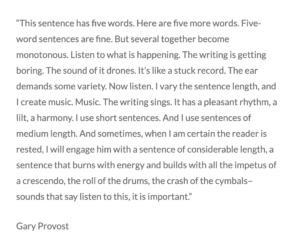 Mirror the language used in the application question.
Pay attention to the words that your scholarship statement uses, as the evaluators will likely want to see those words reflected in your response. In the case of the RBC Scholarships, the keywords to incorporate will likely be along the lines of "leadership", "diversity" "empowerment" "education" etc. But, it's also important to incorporate your own words and ideas to showcase your individuality and unique interpretation of the statement or question.
Address the essay question directly, and Identify the key theme.
Similar to the point above, key themes will likely be buried under the scholarship statement or question. Be mindful of those themes, and speak directly to them. For instance, a lot of scholarship statements will be centered around the themes of leadership, community, and initiative.  To expand upon and emphasize these themes, you could explore lessons you've learned, obstacles you've faced, and how those lessons have shaped you into a stronger leader and role model. Also, keep in mind most scholarships will have a word limit, so it's important to answer the question before exploring ideas outside of what might be directly relevant.
Talk about the tangible stuff.
In the body of the scholarship, it's important to provide tangible information that evaluators can measure and compare against competing candidates. For instance, how many hours per week do you commit to your cause? Have you been awarded any other recognition? In the case of the RBC Future Launch Scholarship, you may want to consider how the scholarship would impact your future, and why empowering you through learning could support a greater good. You can consider these types of questions when framing your scholarship response to really dig deep into what the scholarship means to you.
Understand the implications of the key themes in a broader context.
When writing a scholarship essay, or any thesis in general, it's important to consider three primary things.
What is your stance?
How are you going to prove your stance?
Why does any of it matter?
So, before concluding your essay, be sure to bring attention to the broader implications of whatever it is you're arguing. An example could be that local humanitarian work has global implications, and could shed light on more multinational issues and solutions. Basically, try to expand on the significance of the question that's being addressed, to show that you are thinking critically about it.
Check out our article "Royal Bank of Canada Commits $500,000 to Students" where we lay out the scholarship details in simple terms.