Are you searching for a way to pay for your post-secondary education? The Dalton Camp Award is a $10,000 prize for the best essay on the link between democracy and media. In addition, one lucky student journalist can win a second prize worth $2,500! 
About The Dalton Camp Award
Firstly, an eligible essay must be up to 2,000 words in length and written in English. The selection committee judges essays on strength of written expression and subject matter. The 2021 Selection Committee: 
Candis Callison

Hannah Sung

Jane Hilderman

Kathy English

Michael Barclay

Omar Mouallem

Radiyah Chowdhury (the 2020 Dalton Camp Award winner)
More information on the selection committee can be found on the DCA website. 
Secondly, the award is presented by FRIENDS of Canadian Broadcasting. Moreover, FRIENDS first launched this $10,000 award back in 2002 to honour the memory of Dalton Camp–a distinguished commentator on Canadian public affairs. Also, in 2020, FRIENDS offers a second prize of $2,500 for the best essay submitted by a student journalist! 
Lastly, the Toronto Star is the official media partner for the 2021 Dalton Camp Award.
Essay Details 
You can write on any topic that relates to the link between the media and democracy in Canada. Essays should be dynamic and compelling while also remain engaging, creative, and proactive. Please keep this in mind when writing your essay:
The essay cannot exceed 2,000 words in length, including any editorial content in citations.

Language must be English.

Technical and academic writing should be avoided.

Creativity and originality in writing styles and expression of ideas are ESSENTIAL.

They will judge the subject matter and strength of written expression. 

Most importantly, there is no entry fee. 
Who Can Participate?
FRIENDS encourages and welcomes applications from across genders, ages, sexual orientations, abilities, beliefs, and religions. Any Canadian citizen or permanent resident of Canada may enter for the $10,000 prize. This is regardless of age, or student/professional status. In addition, students who enroll in a recognized post-secondary institution are eligible for the new $2,500 Student Prize!
Dalton Camp Award Medal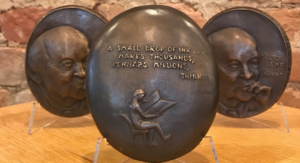 Along with the $10,000, winners will also receive the DCA Medal. Additionally, this is designed by Canada's foremost medal designer and sculptress, the late Dora de Pédery-Hunt.
Deadline 
December 1, 2020, at 8 PM EST.
For more information on submitting your essay, check out How To Apply next!